Timberlin Creek Elementary School is proud to be a recipient of the Florida Department of Education's
The Golden School Award is awarded to schools that meet certain criteria relative to parent and community involvement in their school.
Timberlin Creek Elementary is also proud to be

---

---
District calendar proposals for public input. The district will be taking public input through February 27th, 2020. Please click the link below to view.
SJPS District Calendar Proposals 
---

For the first time ever, Timberlin Creek Elementary is the sole winner of the Battle of the Books North End Competition.  Although TCE shared the winning title six years ago with another team, we proudly hold the honor all our own this year.  On January 27, 2020, twelve teams competed as Timberlin Creek scored an astonishing and perfect 40 out of 40 score.  Congratulations to team members Emily Fitzsimon (captain), Anwita Iyengar, Emily Chaves, Brady White, Shamith Tipirneni and alternates Sophia McDivitt and Declan Lenzen. 
---
---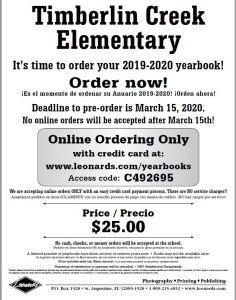 Click here to order Yearbooks!
---
Notice_Service Animal Policy
---
W.I.N.G.S VPK Program
TCE has three available spots. If interested, please contact TRACY COLLINS at 904-547-7406
---
**If you are a person with a disability who needs assistance at any Timberlin Creek Elementary School event, please contact Ms. Heather Caldwell .*