Timberlin Creek Elementary School is proud to be a recipient of the Florida Department of Education's
The Golden School Award is awarded to schools that meet certain criteria relative to parent and community involvement in their school.
Timberlin Creek Elementary is also proud to be

Update from Superintendent Forson, March 26
Dear SJCSD Parents and Guardians,
I cannot thank you enough for your patience and understanding as we transition our instruction to online/remote learning for our students on Monday, March 30. We have created A Parent's Guide to Online Learning video presentation which can be viewed at https://www.stjohns.k12.fl.us/online-learning/. We will continue to add resources, guides, and information to aid you and your child in this new environment.
Our teachers are excited to welcome their students into their virtual classrooms and restart their instruction. While I do not expect that everything will work perfectly, I know that we will get better and more comfortable in this environment each day.
We are in the process of distributing laptops/hotspots to those families who are in need of this technology support. All laptops/hotspots will not be distributed by Monday, but we will continue working to accomplish this task as quickly as our resources allow.
Again, I am infinitely proud of our teachers and administrations to plan and prepare for your child. I am extremely appreciative of you, your children and your families to support this new normal. We are excited to get started and continue this school year. We are all in this together. Stay safe and encourage and support one another.
Sincerely,
Tim Forson
Superintendent
St. Johns County Schools
View Previous Messages
District-Wide Registration
Registration for the 2020-2021 school year will begin on March 2nd.
New Students
District-wide registration for the 2020-2021 school year will begin on March 2nd. Starting on that date, you will be able to click the Register My Child For School button on our school website to complete an online registration form for your child.
Returning Students
Beginning the week of March 23, parents/guardians of all current students will receive an email from PowerSchool to complete the annual Returning Student Verification Form for the upcoming school year. The email will contain the link and instructions needed to complete the verification.
---

---
*UPDATE: School Closure Information*
We continue to receive updates and recommendations from the Florida Department of Education. As of now, students in the St. Johns County School District (SJCSD) will not return to school campuses until Wednesday, April 15. SJCSD faculty will work from home on Monday, March 23 and students will begin online learning on Monday, March 30.  Any adjustments to this plan will be relayed directly from the SJCSD and posted on our website at www.stjohns.k12.fl.us.
---
---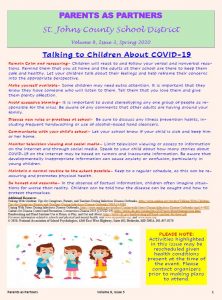 ESE Newsletter_Parents as Partners_Spring 2020

---
---
Click here to order your yearbook
---
---
District calendar proposals for public input. The district will be taking public input through February 27th, 2020. Please click the link below to view.
SJPS District Calendar Proposals 
---

For the first time ever, Timberlin Creek Elementary is the sole winner of the Battle of the Books North End Competition.  Although TCE shared the winning title six years ago with another team, we proudly hold the honor all our own this year.  On January 27, 2020, twelve teams competed as Timberlin Creek scored an astonishing and perfect 40 out of 40 score.  Congratulations to team members Emily Fitzsimon (captain), Anwita Iyengar, Emily Chaves, Brady White, Shamith Tipirneni and alternates Sophia McDivitt and Declan Lenzen. 
---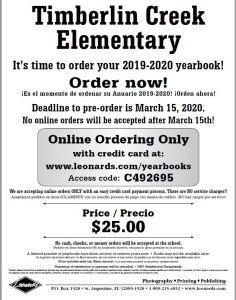 Click here to order Yearbooks!
---
Notice_Service Animal Policy
---
W.I.N.G.S VPK Program
TCE has three available spots. If interested, please contact TRACY COLLINS at 904-547-7406
---
**If you are a person with a disability who needs assistance at any Timberlin Creek Elementary School event, please contact Ms. Heather Caldwell .*