Beginning Wednesday, October 14, 2020 
Early Release will be at 12:55 p.m.
Learning Location Changes
Click here for important information about learning location changes. 
The form for location changes is located in the menu bar, under the Eagle Parents tab titled, Learning Location Changes.
Click below for answers to commonly asked questions about Schoology.  
ESE Parent Advisory Meetings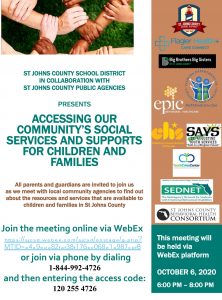 On October 6th from 6:00pm to 8:00pm, the ESE Parent Advisory will welcome the St. Johns Behavioral Health Consortium for a virtual discussion titled "Accessing Our Community's Social Services & Supports for Children and Families in 2020/2021." Join the meeting online via WebEx or join via phone by dialing 1-844-992-4726 and then entering the access code: 120 255 4726.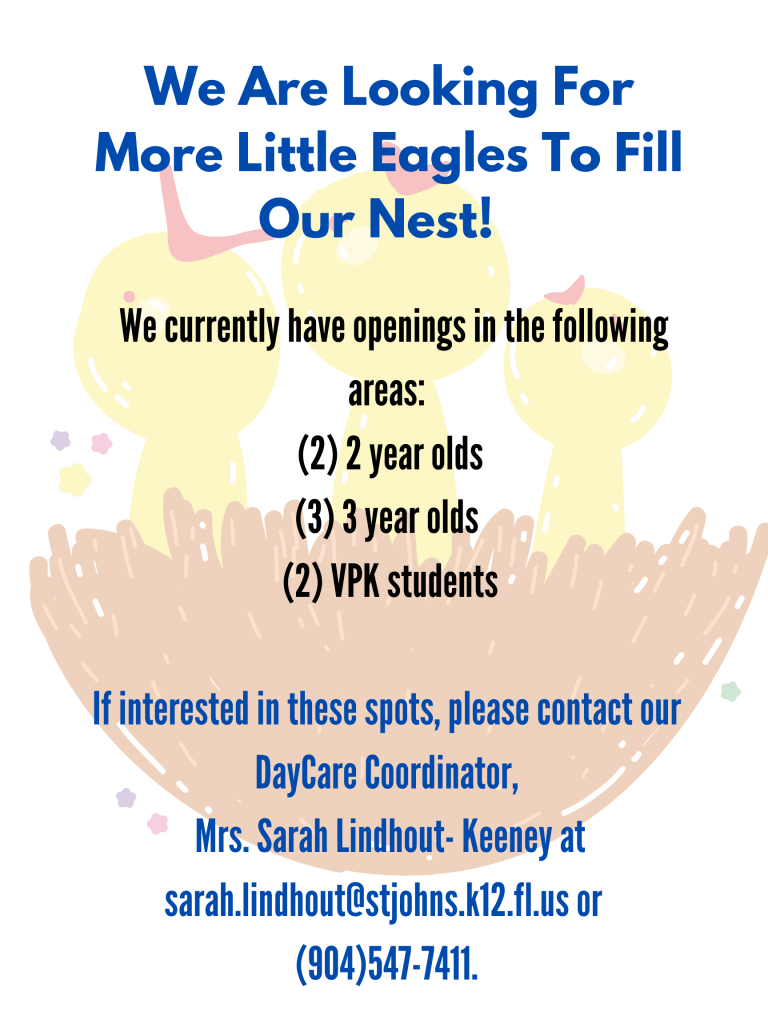 To report your child's absence from school please use the link located under the Eagle Parents tab in the menu bar, titled, Student Absences.  For safety reasons we ask that you do not send notes to your child's teacher. 
Change in Afternoon Transportation & Early Dismissal
If you need to change the way your child goes home in the afternoon or for an early dismissal, please complete our Dismissal Change Form by clicking the button below.
The form can also be located in the menu bar under the Eagle Parents tab.
We accept dismissal changes up until 2:15 PM every day except Wednesdays. 1:15 PM is the deadline on Wednesdays. Dismissal Change Requests will not be read after cutoff times.
If interested, please contact TRACY COLLINS at 904-547-7406
ELA Textbook Adoption Committee Opportunity
During the fall of 2020, St. Johns County Schools will be participating in the process of textbook adoption for English Language Arts. We are in need of non-instructional members (i.e., parents, community members) for the textbook adoption committee. Committee members will have the opportunity to review a variety of ELA instructional resources and provide valuable feedback. This process will be completed in mid-December, all meetings will be virtual, and every effort will be made to minimize your time commitment. If you are interested in being considered for this opportunity, please contact your school's Instructional Literacy Coach.
Fill Out Your Volunteer School Access Form!
In a continuing effort to provide safety and security to our students and staff we ask that you complete a School Access Form if you plan to enter a facility in the St. Johns County School District. Any person passing beyond the front office area must show a valid driver's license or state identification card.
It is recommended individuals include their middle name when completing the online application; and, if no middle name, then please use the acronym "NMN".  
Timberlin Creek Elementary School is proud to be a recipient of the Florida Department of Education's
The Golden School Award is awarded to schools that meet certain criteria relative to parent and community involvement in their school.
FortifyFL is a website and app developed at the direction of the Florida Legislature. Any student, educator, parent or member of the public can report school safety concerns directly to law enforcement and school administrators anonymously and easily through the FortifyFL app or getfortifyfl.com.